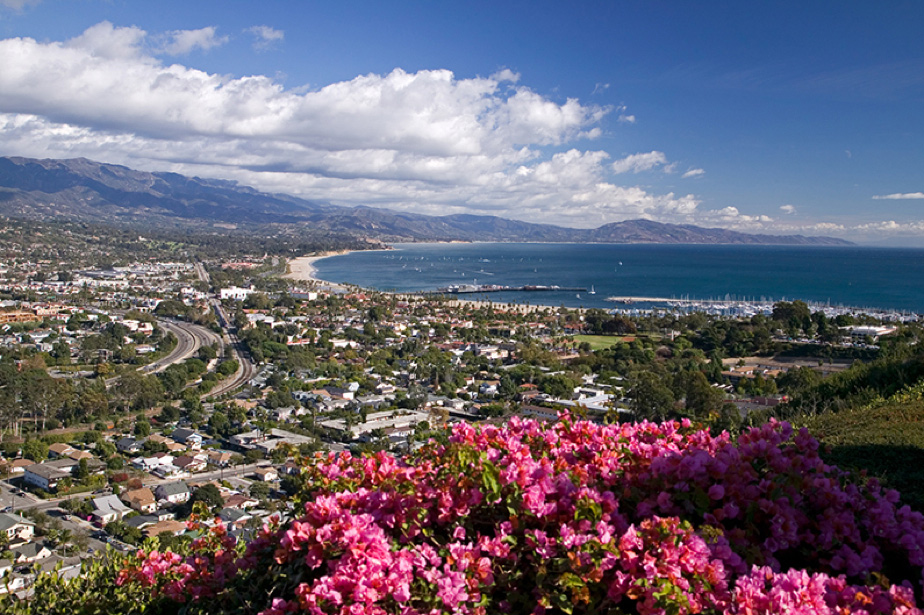 Santa Barbara holds a special place in my heart. There is no place like home. So many amazing memories with family, friends and of course food! There are so many great places to eat in Santa Barbara. When I go back and visit I can't help but to go to these spots that have been around forever and remind me of my childhood. If you want to eat the local favorites then take a look below! Most of these places have a location near downtown St State which everything in Santa Barbara revolves around!
Backyard Bowls started the beginning of the Acai bowl craze! It doesn't get better than this. Santa Barbara is a beach town and laid back. Locals are active so any morning you will find plenty of people in there workout clothes getting their acai bowl on! Backyard Bowls is what inspired my Acai Berry Breakfast Bowl with Fresh Ginger and Lime. They serve acai bowls, smoothies, breakfast bowls made with oatmeal, quinoa, yogurt, or muesli! There are three different locations in Santa Barbara making it more assessable! There is also a location in West Los Angeles. This is a must and even big enough to share!
Jeannine's Restaurant and Bakery is quaint and you feel like you walked into a bakery in France. There are two locations, one in Santa Barbara and one in Montecito. Jeannine's has been family owned for 30 years! They serve breakfast, lunch, a weekend brunch and pastries! The menu has everything from a California Omelette, Ricotta Poppy Seed Pancakes, Lobster Benedict, any sandwich you could think of and fresh salads. They have plenty of gluten free items to choose from as well! Their pastries alone are worth making a trip to Jeannine's from scones, muffins, croissants, coffee cakes and gluten free breads and cookies! D'Angelo Bread & Bakery is another family favorite known for their Homemade Olive Oil Bread and Egg's Rose: olive bread, artichoke spread and a poached egg on top! My sisters and I love to have a girls morning out at either of these bakeries!
Below is a picture of Jeaninne's Kahlua Banana French Toast – Authentic challah bread topped with bananas sauteed in Kahlua, brown sugar and butter.
Cajun Kitchen has been established and family owned since 1984. I actually grew up with the two brothers that work along side their dad to keep this restaurant going. It has been a family favorite for as long as I can remember. It has a mexican flare with a cajun twist that makes anything and everything on their menu incredible! If you want a local diners experience in Santa Barbara this is your place. Year after year it has been voted best breakfast spot in Santa Barbara! There is usually always a line on the weekends for brunch.
They serve everything from the traditional breakfast items like pancakes, french toast, to southern cajun favorites shrimp and grits, jambalaya and eggs, corned beef hash and egg, omelets, and burgers or sandwiches! I love how Cajun Kitchen has variety but will still please the whole family especially the kids!
Their Huevos Rancheros are a huge hit!
Not your traditional dish with
2 fried corn tortillas layered with red beans
and rice, topped w/ chorizo, jack cheese, 2 eggs any
style, and home-made ranchero sauce.
Rudy's Mexican Restaurant is my ALL time favorite mexican restaurant in Santa Barbara! I have to go there at least twice when I am in town! It is authentically mexican. Anywhere I have lived since growing up in Santa Barbara and if I eat at a Mexican Restaurant it has to meet the standards of Rudy's! Rudy's doesn't even have a real website. Thats how long its been around and how many people love it without it needing advertisement. They serve breakfast, lunch and dinner. They also have hamburgers and salads. It is easy to please the kids and everything thing on the menu is worth trying. Sometimes all I want is a Bean and Cheese Burrito and other times I can't get enough of their Carne Asada Torta! Easy on the wallet and delicious! My kind of restaurant!
Rusty's Pizza Parlor is the ultimate local favorite pizza place! I compare every pizza parlor to this one. The pizza is so good and who doesn't love cold root beer with crushed ice?! Traveling doesn't always mean you have to go out and spend a ton of money on yummy food. With all the sight seeing and beach going this is quick, delicious and has eight locations through out Santa Barbara.
They have speciality topping like chorizo, fresh cilantro, meatball or just your classic pepperoni or cheese. Rusty's pizza is known for their original thin crust and have four different types of cheese on every pizza. Thankfully there was a little Rusty's Pizza shop right across from my High School growing up because it is a must!
Santa Barbara Chicken Ranch is a must! They have been serving tri-tip and mesquite bbq for over 20 years. They have three locations one in Santa Barbara, Goleta and Ventura. When my whole family is in town we make an order and get a little bit of everything! Nothing is better than trying it all. They give you homemade warm tortillas with your order and putting everything in a taco is amazing! Below is a glimpse of their beans, rice and tri-tip and chicken! It's so good!
Panino Restaurant serves the best sandwiches, salads, and soups in Santa Barbara! It is one of my brother's favorites and we are always meeting here for lunch when we are both in town! It has expanded and there are six location, three in Santa Barbara.
Panino Caprese Sandwich or Goat Cheese, Roasted Red Pepper and Sun Dried Tomatoes Sandwich or the Panino Cobb Sandwich. You really can't go wrong and will probably have to come back for more!
Panino continues to win the 'Best of Santa Barbara' awards each year. Such a fun atmosphere and being able to eat outside in the warm sun is a bonus!
You can not visit Santa Barbara without going out on Stearns Wharf! Seafood in Santa Barbara is delicious. Two of the restaurants you can try are The Harbor Restaurant or Santa Barbara Shellfish Company! Stearns Wharf also has a Sea Center that the kids will love and can touch sea life. Don't forget to stop for locally homemade ice cream or sherbet at The Great Pacific Ice Cream Company also located on the wharf! Stopping here is apart of the experience when going to Stearns Wharf.
Last but not least McConnell's Fine Ice Cream has been around since 1949. The BEST in Santa Barbara!
With flavors like Chocolate covered strawberries, Churros con leche, Coconut cream, Lemon and marionberries, or Turkish coffee you can not go wrong! You might just have to stop by everyday to try all of them!
(some pictures courtesy of the internet)